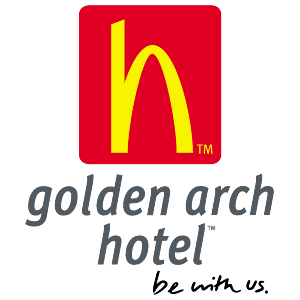 In economic theory, this is regarded as a lateral acquisition. This is because even though hotels are not directly related to the restaurants that McDonalds have built up in recent decades, they are in the similar industries of hospitality - and it is likely that the hotel will have a restaurant.
When answering a question like this, you need to consider the assets that McDonalds has as a brand. For example, the 'Mc' prefix has become a household name, and is extensively used throughout the McDonald's menu as new products are added to their portfolio of food. Therefore, you could compellingly argue that a 'McHotel' could be a realistic prospect.
However, it's important to also look at other forms of intellectual property, such as the logo of the company. This asset was actually used when McDonald's established their first hotel out of Zurich, cleverly named The Golden Arches. This was in reference to the way that the 'M' is formed in the McDonalds logo. For this purpose, one of the arches was adapted to form a 'H', while still using the iconic gold lettering and red background.
McDonald's made its foray into the hospitality industry in 2001, opening two hotels in Switzerland, at Zurich and Lully. The "Golden Arch Hotels" were positioned as four-star facilities with the latest in-room technology and very original, modern interior design. Reactions and reviews of guests following their stay there were mixed. Most seemed to agree, that the hotel's four-star rating didn't seem to correspond with McDonald's image. The Golden Arch in Zurich is McDonald's first hotel.
Unfortunately, this venture was not successful as it went to market in the early 21st century. Many business analysts believe that when it comes to mergers, 90 per cent fail or do no better with their current status. Because of this, it could be argued that you shouldn't be creating names for hypothetical McDonalds hotels at all, and just accept that it isn't practical for such a business technique to be implemented.
The growing meat scare in Europe resulted in falling sales, in 2001, which prompted executives to look for new areas for McDonald's to sustain its global profits and domination. Golden Arch was the brainchild of McDonald's chairman and CEO in Switzerland. Within visible distance from the Zurich Airport, the Golden Arch Hotel was McDonald's first hotel.