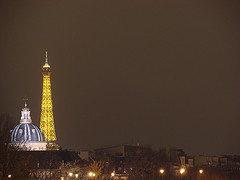 The towers of world are famous for size, features and history and include: The Eiffel Tower; The Former Twin Towers of New York; The Leaning Tower of Pisa; The Galatia Tower and the Toyoto Television Tower.
The Top 5 Famous Towers of The World
1 - The Eiffel Tower: Situated in Paris, France designed and built by a French engineer. He designed a number of large iron frame works. The Eiffel tower was 300 meter high in 1899 and rose to 320 meters in 1959; (equal to approximately 985 feet). It is one of the leading tourist attractions in Paris.
2- The Leaning Tower of Pisa: Situated in Pisa, Tuscany Italy and is built of white marble tower. It dates back from 12th century and is already16 feet off the vertical position due leaning of subsidence. It is 181 feet high.
3- The Galatia Tower: Situated in turkey and dating back to the 5th century, when Istanbul was captured by the Genoese. It is 220 feet high and once used as an observatory. It was once called the Jesus tower.
4- The London Post Office Tower: Has a 579 feet high tower then the top of the mast taking it to 625 feet high in total. It manages and provides part of the communication system for telephone and television and it also houses a revolving restaurant.
5- The Tokyo Television Tower: Is located in Tokyo, Japan, and is probably the tallest and highest tower at 1050 feet high.