I have two boys 2 and 5 and I love taking them away to see new things, but I must say that the best family holiday we have been on is at Center Parcs.  I have only stayed at the one in Elveden Forest but it has been spectacular.
Why Center Parcs
It is well organised. When you arrive you book in via a welcome house, you get your keys and directions to your cabin and then you are able to drive onto the main car park and then walk into the complex.  Later on that day you are able to drive your car to your cabin and unpack all your luggage and food, then return your car to the main car park which is where it will stay till the end of your holiday.  It is so easy.
There are minimal cars. Apart from the Center Parc cars there is no traffic so you are able to let your children walk around freely and explore the beautiful scenery (though I would watch out for bikes).
Wildlife. When you are sitting in your cabin just relaxing you will be surprised how much wildlife activity there is.  My boys have often pointed out seeing Squirrels, Ducks, Deers, Robins and Geese right outside the door.  It is beautiful to see this interaction of wildlife up close and personal, whilst having a cup of tea!
Restaurants. Every restaurant offers you a different menu which is wonderfully refreshing, plus they each have a soft play area so that your little one and be ' distracted' whilst your food is being prepared.  It is genius idea that really works.
Activities. All the activities are optional extras and some of them are expensive, but there is no pressure to take part in any of them.  The range is extensive from exercise classes, high wire adventures, swimming lessons, kids clubs, badminton, bike hire, shooting, walking there really is something for everyone.  Even for your little one there is lots to chose from. However, the best activity is already included, the pool!
The Swimming Pool. It is truly amazing.  A tropical wonderland (so it is lovely and warm) from flumes, rapids, wave machines and a lovely separate kids pool you can easily spend all day in there.  Star bucks and a restaurant are also on hand just incase you get hungry!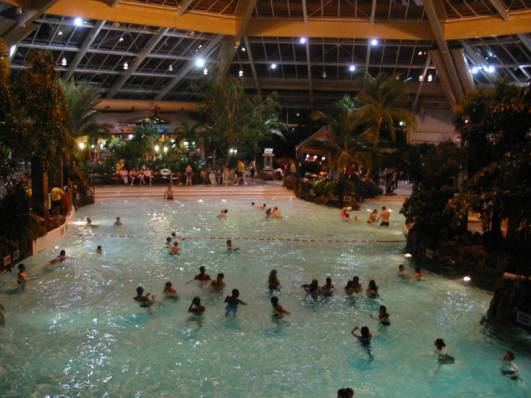 As you have a 2 year old, you will also be able to benefit from going in term time which will reduce the cost dramatically.  I have know the  price to double, just to go in the school holiday.
Like I said before I have only been to the one in Elvedin and I know that they can vary slightly from site to site.
I absolutely love it there, as do my boys.  I hope you really consider it as I think you may get hooked just like my family.